5×1000
You can make a poor children smile with your signature and our tax code: 97690810011.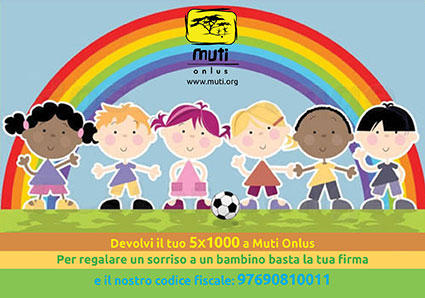 Support projects Muti Onlus With Your 5 x mille.

Report Muti Onlus tax code on your tax return: 97690810011.

You will convert your tax return in a great act of solidarity without it costs you nothing.
The financial confirmed the possibility of allocating a share of taxes (5×1000) to non-profit organizations.

The 5xmille doesn't costs to taxpayers. It is the government that gives up some of the tax paid by the taxpayer (namely the 5 per thousand) to assign it to non-profit organizations such as Muti Onlus for purposes of solidarity.

How can you do? It 's very simple
On your tax return put your signature in the box that identifies non-profit organizations and reports the tax code of the "Muti Onlus".

The tax code of Muti Onlus is: 97690810011.